Just to recap, here's everything you get…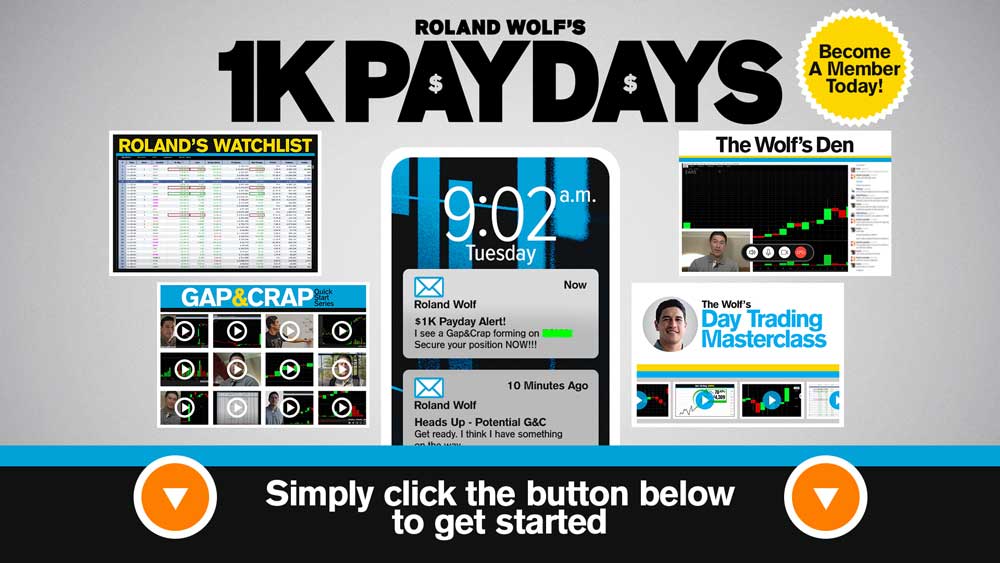 A Full Year of Access to Roland Wolf's $1k Payday Stock Alerts. These are the exact same trades Roland will be using to make his next $1mm in trading profits. We're expecting to have 2-5 alerts per month. (Value: $6,000)
The "Gap and Crap" Quick Start Series. Roland will show you everything you need to go from 0 to trading these setups in an easy-to-watch video series (Value: $499)
Roland's Pre-market Watchlist with the stocks with the highest potential to explode when the market opens and hand you $1,000 or more. (Value: $199)
The Wolf's Den, Roland's weekly Q&A call where he'll field any questions you may have about trading and the market (Value: $600)
The Wolf's Day Trading Master Class. That's Roland's intense 12-hour video training guide, including the recordings of his in-person boot camps (value $799)
That's a total value of $8,097.
But don't worry. You will NOT have to pay anything close to that in order to join today.
Even though Roland paid $6,000 for a service like this when he got started…
Today you won't even pay that.
Membership to Roland Wolf's $1k Payday Stock Alerts is only $1,495.
That's just a one-time payment for a full year of access.
When you consider the success that Roland's students are already having, that's really a no-brainer.
Check out these notes we've received.
"My account grew 50% in just two months"
"I grew my account from $300 to $4,000 in 5 months"
"I made 10 grand last month and now I'm up a little over $20,000 for the year"
"Last month I made 10k in two weeks. I've hit quite a few of 4-figure days recently"
I mean… these people made multiples of the cost of the service.
This is that kind of investment that could pay for itself.
If you close this page, you might never see this offer again.
We also can't guarantee we won't increase the price soon.
We're setting a strict, 100 student admission limit for today.
If we get thousands and thousands of people asking us to join, we'll have no choice but to increase the price.
That means if you're serious you have to act fast right now.
All you have to do is fill out the easy form to the right.
You'll get an email that confirms access almost immediately.
You'll also get details on how to access everything I've promised here.
With Roland on your side, pretty soon you could be averaging $1,000 a day, which has the potential to completely transform your life… like already happened to Roland.
Regards,
Tim Sykes
By clicking Complete Order, you agree to our Terms of Service and Privacy Statement and authorize Millionaire Publishing LLC, along with its agents and partners, to call, email and message you with offers and other information, possibly using automated technology. You further certify the information you provide is yours. Standard rates apply and consent is not a condition of purchase. All calls may be recorded. You may opt-out of text messages by replying "stop" at any time.